COVID UPDATE: Now that ALL of our participating Club Members are fully vaccinated, we are resuming our regular practice schedule for the 2021 Season.  Fully vaccinated participants will not be required to mask.  Even though this is an outdoor activity, social distancing is impossible in a Dragon Boat and heavy breathing is inevitable. Non-fully vaccinated participants are required to mask while aboard the boat. Guests who wish to try out the Dragon Boating experience are welcome and expected to adhere to our present COVID safety policy.
Paddling is in our blood!
Feel the same?
Come and paddle with us:
We practice every Thursday evening (5:30 PM) and Sunday morning (8:30 AM), weather permitting, meeting at Clancy's Marina on Midyette Street and launching at the Midyette Street Wild Life ramp. Click here for CONTACT INFO.
The Crew:
A dragon boat crew is comprised of 20 paddlers, a steer person standing at the aft (back), who guides the boat, and a drummer at the bow (front) who signals the pace set by the "strokes", the first two paddlers.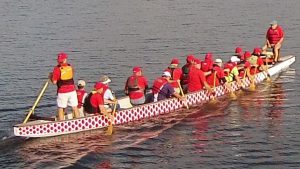 Teams:
Teams can consist of all men, all women, or mixed crews. Our Team is a mixed crew. Timing, Technique and Power are the three key elements of a successful team. Team work is critical as paddlers work in unison, mirroring rather than following one another.
Competitions: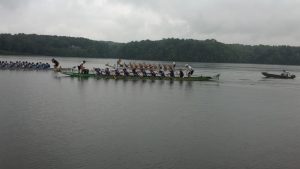 Dragon Boat Races can occur over several distances, the minimum being 200 meters, the maximum being several miles long for skilled professional teams.  Usually a race event will take place over a full day with several timed heats taking place to determine a competitive division in which to place the team.  Paddling in a race is pure adrenaline-pumping exhilaration. We compete as the "Dragon Masters". View our races at the 2016 Oriental Dragon Boat Festival here:
Oriental Dragon Boat Festival 2019 – Final Race, River Dunes NC
Oriental Dragon Boat Festival 2016, River Dunes NC
Smoke on the Water Festival 2015 Heat 1, Washington NC