Paddling is in our blood!
Feel the same?
Come and paddle with us:
We practice every Thursday evening (5:30 PM) and Sunday morning (8:30 AM), weather permitting, meeting at Clancy's Marina on Midyette Street and launching at the Midyette Street Wild Life ramp. Click here for CONTACT INFO.
The Crew:
A dragon boat crew is comprised of 20 paddlers, a steer person standing at the aft (back), who guides the boat, and a drummer at the bow (front) who signals the pace set by the "strokes", the first two paddlers.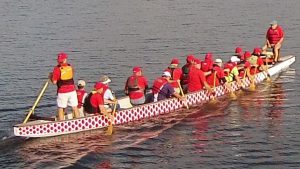 Teams:
Teams can consist of all men, all women, or mixed crews. Our Team is a mixed crew. Timing, Technique and Power are the three key elements of a successful team. Team work is critical as paddlers work in unison, mirroring rather than following one another.
Competitions: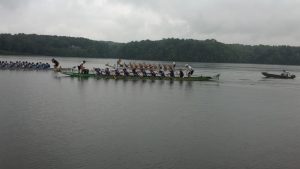 Dragon Boat Races can occur over several distances, the minimum being 200 meters, the maximum being several miles long for skilled professional teams.  Usually a race event will take place over a full day with several timed heats taking place to determine a competitive division in which to place the team.  Paddling in a race is pure adrenaline-pumping exhilaration. We compete as the "Dragon Masters". View our races at the 2016 Oriental Dragon Boat Festival here:
Oriental Dragon Boat Festival 2019 – Final Race, River Dunes NC
Oriental Dragon Boat Festival 2016, River Dunes NC
Smoke on the Water Festival 2015 Heat 1, Washington NC